The Bibles on this page are Bibles that I own, have used, and/or have researched and want to own. I find the different perspectives of translations and commentaries very insightful and interesting.
Clicking on links will take you to Amazon (in a new tab) where you can read more about the book and purchase it if you like.
Before we get to the Bibles, I highly–very highly–recommend these handy little tabs to mark the books of any Bible(s) you get/have! These little gems are a total time-saver! Click here to check out some tabs, there are multiple colors available.
When I came back to Christ, God laid it on me that I needed a Bible. There were so many choices; and I was nervous I would not be able to comprehend what I read (the Old English is difficult for me to understand, King James version was out!). I asked my pastor, Lee, which Bible he recommended and he showed me his HCSB Study Bible and highly recommended it. It's the one I went with and am really glad I did.
Since that time, though, it has changed from the HCSB Study Bible to CSB Study Bible. There are still HCSB Study Bibles available on Amazon as of this writing, but I don't know for how much longer. (The links for HCSB will go to a purple covered version shown below, but my original came with a black faux leather cover; the CSB links go to the CSB version).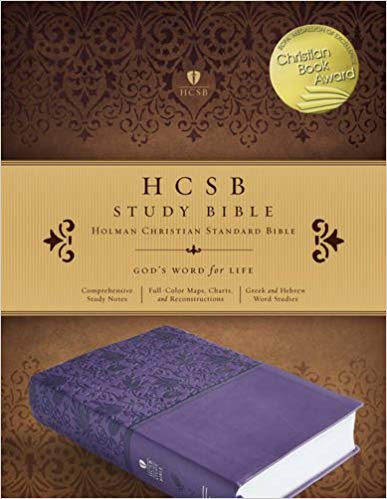 Reading the reviews of the CSB Study Bible, it is the HCSB revised, so I will probably have to get one of those next. Here is the picture for the CSB Study Bible.
After reading through my HSCB Study Bible, I realized that it was difficult for me to really put pieces together. I'm American, I have very time-organized thinking, chronological, time-line (which is actually a Greek "thing"). Eastern and Middle Eastern thinking is more circular.
In order to help me better-understand or be able to place happenings and events, I decided a Chronological Bible would be a good tool for me. I'm super-happy with the Chronological Bible I *finally* decided on. It took hours and hours of search and debate with myself, but here it is!
Another thing I realized was that the cultures in the Middle East are so very different from American culture. This should have been obvious, but sometimes a little slow. Lee is gracious enough to try and put different things into context by explaining various aspects of the culture. It's really helpful! (Like how the Romans viewed adoption, and how it translates over to us being the adopted sons and daughters of God–See the explanation HERE).
The Cultural Backgrounds Study Bible has helped me to understand in greater depth, seeing through the lens of the person's culture and what an experience or something said really could have meant to them.
This version is NIV (New International Version), different from HCSB/CSB, but still understandable for me.
The Message Study Bible by Eugene Peterson is a great tool to try and understand God's Word. I was warned to remember that The Message is only one man's interpretation. Nonetheless, the interpretation is in easy-to-read language and has made it much easier for me to understand some of the more difficult passages and books, like Job.
The Apologetics Study Bible for Students is great! Anyone who needs some more help explaining why they believe what they believe to people who ask, this is a great tool! Apologetics is not apologizing, it is a why of explaining our faith (just in case you had misunderstood what Apologetics was for years, as I had done!).
The NIV Life Application Study Bible is one that I have on a shelf. I've not pulled it down much–a person only has so much time!–but I plan to do it after I have finished the Chronological Bible. The few times I delved in, it is helpful.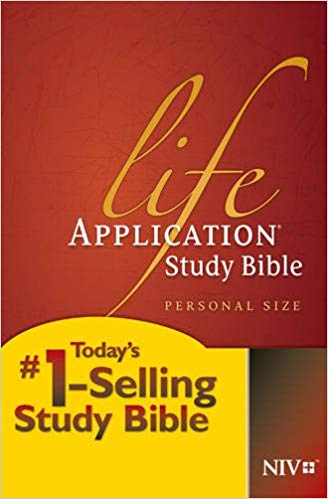 Besides Bibles for my own study purposes, I have purchased or experienced multiple Bibles for or with my children, friends, and some people who have forgot their Bible or don't have one of their own. I have also purchased a few to have on hand should the need arise (more than one a small Bible in the glove box has really useful!). Here are some of the Bibles I recommend.
A Vacation Bible School the kids attend every year gave the kids these NIV Adventure Bibles for a few years. These are great!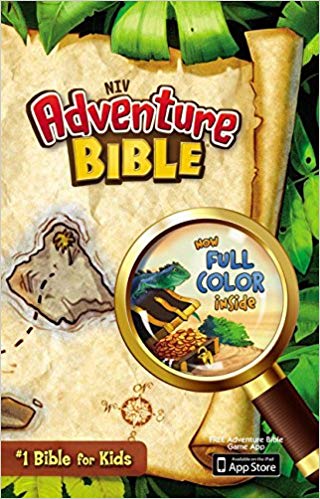 Pocket Bibles are great because they are compact and can fit in the glove box of a vehicle and other places so when you need a Bible, you have it. I purchased many of the HSCB Pocket Bibles, but now they are CSB Pocket Bibles. The cover on these isn't the vinyl, it is leather-type material.